Written by WUVT
UNDERWRITING
Support your business while supporting your local radio station! Broadcasting for over half a century, WUVT is one of the oldest college radio stations in the country. We are a non-profit, non-commercial, educational station that relies on underwriting and listener support for our survival. WUVT reaches a potential audience of over 100,000 people. Coverage is throughout the New River Valley, including Blacksburg, Christiansburg, Radford, New Castle, and beyond! View our coverage map here.
Underwriting is the non-commercial equivalent to advertising. You pick the hours you'd like to sponsor and we'll do the rest. We offer the most affordable rates around and we'll do our best to keep you satisfied. Take pride in supporting the only student-run radio station in Southwestern Virginia!
To support us with underwriting, contact our sales department (College Media Solutions) at 540-961-9860 or 540-231-9880

UNDERWRITING CLIENTS
The Cellar
The Cellar is open daily from 11:30 to 2am. Located at 302 North Main Street in downtown Blacksburg, The Cellar offers open mic blues jams every Monday and Tuesday night as well as live local bands on Thursday nights. Coupons, Menus and more are available at www.the-cellar.com or at 540-953-0651.
Easy Chair Coffee Shop
Easy Chair Coffee Shop is a specialty coffee roaster and used bookstore located in University Mall near the Virginia Tech Math Emporium. Easy Chair offers assorted espresso beverages, sandwiches and wireless internet access. For updates on events, new book arrivals, hours and location, find us on Facebook or visit easychaircoffeeshop.com or www.wuvt.vt.edu.
Souvlaki
Souvlaki serves Greek specialties, pita wraps, subs and more. Souvlaki offers patrons the option to eat at the bar, dine in at the table or take food to go. Souvlaki was started in Blacksburg in 1982, and continues to serve Greek traditions to the New River Valley. For more information about Souvlaki visit www.eatsouvlaki.com or www.wuvt.vt.edu.
These local businesses help keep us running, so go return the favor!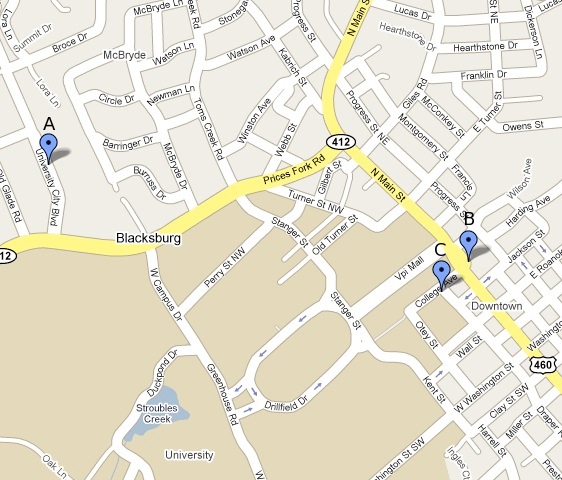 A - Easy Chair Bookstore
B - The Cellar
C - Souvlaki