WUVT's Fall 2017 Radiothon is almost here!
written by Emmet Hobgood on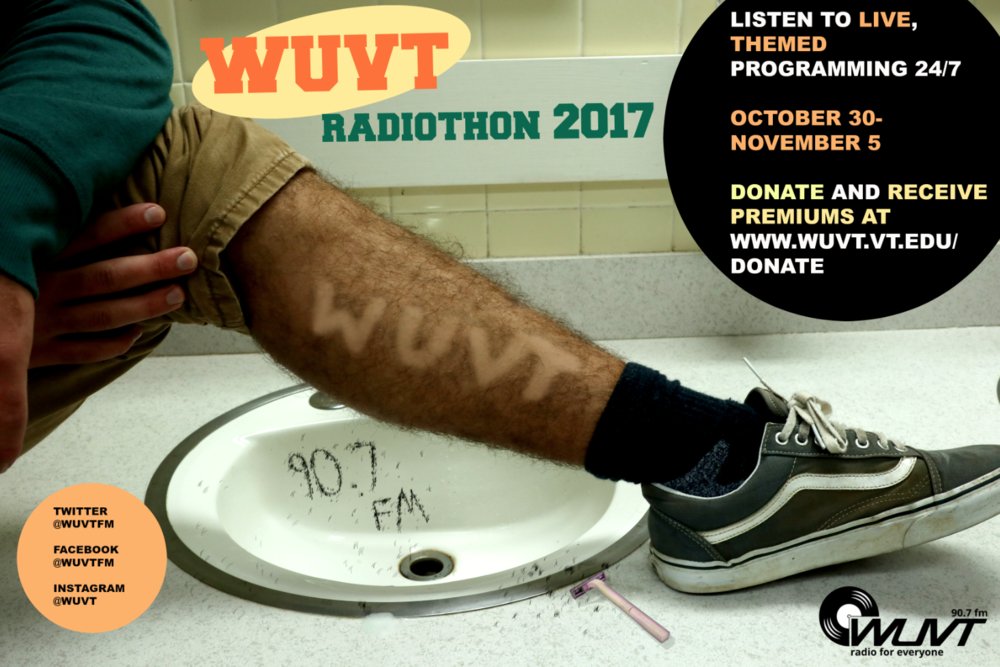 Isn't it beautiful?
Not the poster. Well, the poster up there is beautiful, yes, but what's even more beautiful than "WUVT" freshly shaved into a leg is Fall Radiothon. The Greatest Week In Radio is upon us once more! Starting next week, from October 30th through November 5th, we'll have a full week of 24/7 live, themed shows to bring you endless hours (okay, 168 hours, but who's counting?) of sonic satisfaction. Our DJs are prepping quite hard and the staff is working overtime to make sure it all goes off without a hitch.
This semester's Radiothon has a goal to raise $20,000, so be sure to donate to help us meet this goal! This Radiothon is part of a larger effort to raise a grand total of $70,000 to overhaul and rework our studio and station audio infrastructure so that we can keep bringing you the best music you can find in the New River Valley. Your dollars will get you both some super cool premiums and help contribute to our greater project for your best listening experience possible.
We'll have more updates for you - including a list of premiums, program guide, daily updates, and remotes - throughout the rest of the week. You can follow along here on our website as well as our Facebook, Twitter, and Instagram accounts to stay on top of the goings on. Of course, you can also tune in to our on-air programming on the radio dial or your favorite Internet browser.
Thank you from all of us here at WUVT, and be sure to donate and support the Greatest Radio Station in the World!