Pledge Online
You can donate online by clicking one of the links above. A shipping fee of $6 will be added to your pledge amount if you would like premiums (other than the sticker) mailed to you.
Fall 2017 Premiums
For the Fall of 2017, the following premiums are available. Each pledge tier also receives premiums at all lower tiers.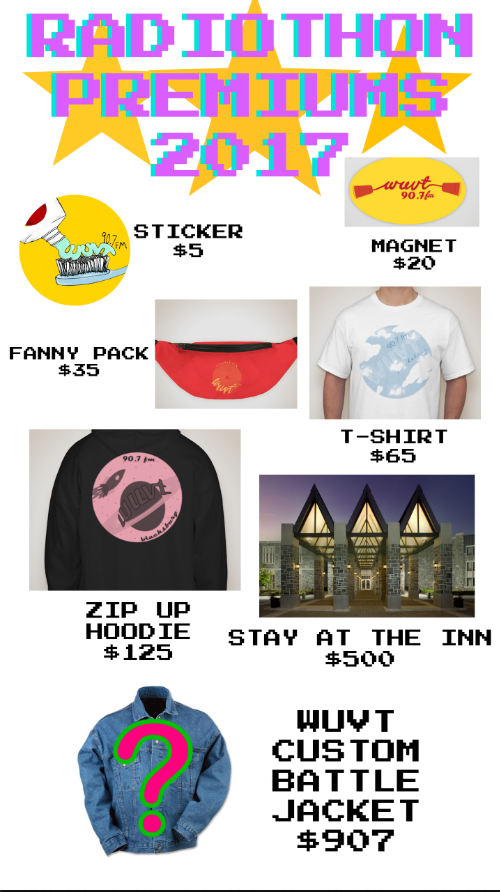 Please allow 4-6 weeks for premiums to be delivered.
Note that we are unable to guarantee premium availability if pledges are made outside of Radiothon week. If you make a recurring monthly donation, you will only be sent premiums for the first month.
Frequently Asked Questions
How do I donate online?
Click one of the red buttons at the top of this page.
Do you accept Bitcoin?
Yes! We accept Bitcoin for one-time donations through Stripe.
How do I donate without a credit card?
To make a donation by check, credit card, or cash, please call the station at 540-231-9888 and speak with a volunteer, or stop by the station during business hours. Please note that your premiums may be delayed for slower methods of payment.
Is donating online secure?
Yes, payment details are securely handled by Stripe.
Can I make a recurring donation?
Yes! You can make a monthly recurring donation, small or large, to support WUVT. We suggest $10, but any amount helps. You can cancel at any time.
When will I receive my premiums?
Premiums generally arrive within 4-6 weeks after Radiothon. If you elected to pick them up, we'll post an announcement when they are available.
Can I donate outside of radiothon?
Yes, but we can't guarantee premium availability as items are ordered in bulk based on the number of donors.
Are donations tax-deductible?
Usually, yes! WUVT is a 501(c)3 public charity so donations are tax-deductible to the extent allowed by law. We are registered with the IRS through our parent company, "Educational Media Company at Virginia Tech" (EIN 54-1852890).
Can I donate hardware instead?
Maybe. Contact our IT director at it@wuvt.vt.edu, or our chief engineer at ce@wuvt.vt.edu to see if we can put your equipment to use. We have a non-exaustive wishlist, if you are looking for ideas. If we can use it, it is generally deductible as an "in-kind" donation.
Can I get my business mentioned on-air in exchange for recurring donations?
Yes! We offer underwriting which is the equivalent of advertising for non-commercial stations like WUVT. Typically, underwriting is considered a tax-deductible donation. Click here for more information. Unfortunately we cannot yet accept online underwriting sales due to scheduling and content review requirements.
Can I make a donation earmarked for a specific purpose at WUVT?
Not through this form. Contact wuvtamfm@vt.edu for more information. Note that earmarked donations may lose tax-exempt status.