Radiothon: Thank You!
written by Zane Kidwell on
Radiothon is over!
Thank you to all of our DJs and donators for your help this week. It is thanks to your support that WUVT can continue to bring the most unique programming to the NRV and beyond. Lots more is coming in WUVT's future so be on the look out for more including a post on how to receive premiums!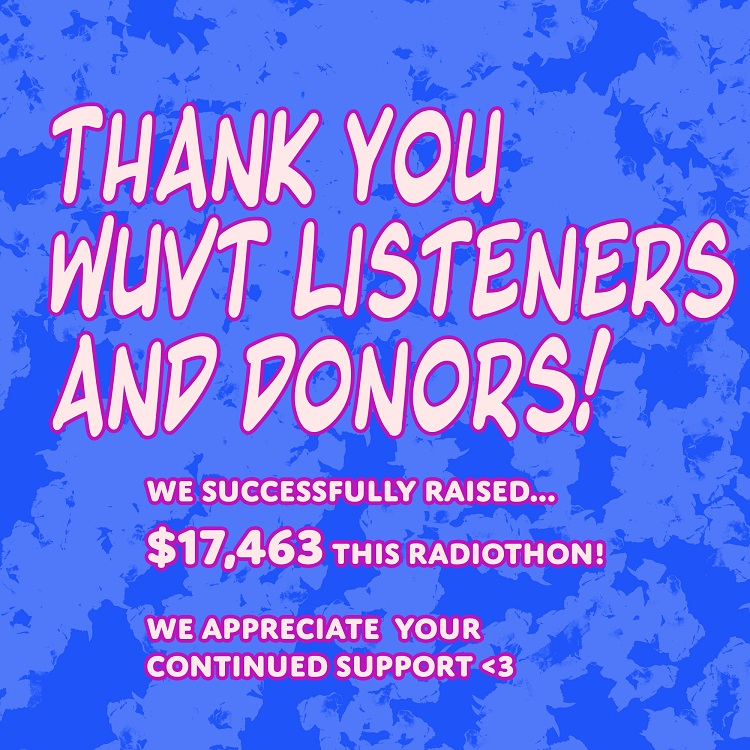 | Time | DJ | Theme | Description |
| --- | --- | --- | --- |
| Monday | | | |
| 4am-7am | The Wave | THEME | DESCRIPTION |
| 7am-9am | Ye Annex Annex | THEME | DESCRIPTION |
| 9am-11am | Linda DeVito/Winds of Change | The First Ine | The first song on the first side of a record or the first song on a disc are important. They open up the piece of art. Sail away on The Winds of Change as we explore the First Track. |
| 11am-12:30pm | Linda DeVito/Winds of Change | The First Ine | The first song on the first side of a record or the first song on a disc are important. They open up the piece of art. Sail away on The Winds of Change as we explore the First Track. |
| 12:30pm-2pm | Jeremey Becker | Read and Relax | Let Jeremy read you through the fantastical world of Harry Potter with momentary breaks for reflection and close with some ambient tunes. |
| 2-3:30pm | The Bens Room | Songs that Smell like Cigarettes | These songs make think about second hand smoke inhalation, mullets, cut off jean jackets and 3rd generation Camaros. Travel back in time to a land of Reaganomics, MTV t-shirts, smoking in public and an over inflated housing market. |
| 3:30-5pm | Gabe | 2001: A Musical Odyssey | A retrospective of the best remembered and best songs of 20 years ago. |
| 5-7pm | DJ Will Vincent Heltzel | They're all Smarter than Us | One non-English speaking country at a time, I will play pairs of songs from that country in their official language and one in English. |
| 7-9pm | Candy Colored Clowns | Beware Of The Gabaghoul | Join the Candy Colored Clowns on a clown car tour of tasty musical selections from our favorite Giallo (Italian Horror) films. The Candy Colored Clowns will launch a bowl of spaghetti through your car window this halloween season. |
| 9-midnight | brother ken | put your lips together and blow | songs that know how to whistle from andy griffith to quentin tarantino, we will warble, weeze, and whine through the good, the bad, and the ugly to signal the seaside sound of the cider cellar stranger |
| Tuesday | | | |
| 12-2am | brother ken | put your lips together and blow | songs that know how to whistle from andy griffith to quentin tarantino, we will warble, weeze, and whine through the good, the bad, and the ugly to signal the seaside sound of the cider cellar stranger |
| 2am-4am | brother ken | put your lips together and blow | songs that know how to whistle from andy griffith to quentin tarantino, we will warble, weeze, and whine through the good, the bad, and the ugly to signal the seaside sound of the cider cellar stranger |
| 4am-7am | The Hole | Music for an Executive Lounge | The best tunes to sit back, sip a cocktail, and enjoy a nice bit of jetlag during your travels. Music curated from my time spent in executive lounges across various hotels, as well as music that I feel like should be played when you want to relax in luxury with a wonderful view. |
| 7am-9am | The Sound | Shakori Hills Grassroots Fest | If you've ever been to Shakori Hills, or if you know of bands like Galatic, On the Spot Trio, Dr.Bacon, Ryan Montebleau, RKS, and more you won't want to miss this. I'm paying homage to this fantastic festival and all the incredible artists it has brought to Pittsboro, NC over the years. Tune in and you might discover something new (or something old)! |
| 9am-11am | Len | Classical | Classical |
| 11am-12:30pm | Deejay crakerr | misogyny but its SEXY? | songs that I am morally opposed to but cannot deny that they fucking hit |
| 12:30pm-2pm | No Soap Radio | Wave Goodbye | A tribute to the electronic genres which swept the internet in the mid 2010s. |
| 2-3:30pm | DJ Almost Alright Also Known As Abby | Weatherman | Songs about different kinds of weather: blue sky, riders on the storm etc. |
| 3:30-5pm | Stacks on Stacks | Fear of Music, Music of Fear | In honor of Halloween week, our show will feature music with song titles or artist names inspired by fears and phobias, specifically where the objects of these are commonplace things or circumstances. Tune in to listen to us play songs relating to fear of paper, standing upright, technology, and more! |
| 5-7pm | The Sound | Metaphysical Music | Tune in from 5-7 PM on Tuesday to hear some tunes exploring themes such as existence, reality, consciousness, awareness, the unknown, and much more. The show will be filled with great music by great artists and who knows...you might learn something about yourself by listening. |
| 7-9pm | The Monster of Love | The Ritual Drowning of Sorrows | It's a Goth happy hour! All your most comforting and thrilling dark favorites to gear you up for the eternal night. |
| 9-midnight | Kash | Filibuster | I will be reading poetry overtop instrumentals for 3 hours |
| Wednesday | | | |
| 12-2am | Katie and Jake's Oracular Spectacular | All Out Adam | We will be playing music related to, the one and only, Adam Sandler. This includes music he's made himself, music he's featured in, and music from his movies. We're going full Adam Sandler on this one. |
| 2am-4am | deejay cracker | songs to be chased through a castle to | spooky scary |
| 4am-7am | The Louie Agenda | Back to the Future | Have you ever felt misunderstood by your parents, so you go to a parking lot and find an eccentric scientist who stole plutonium from terrorists, so you hop in his car and go way over any reasonable speed limit (unless you're on the Jersey Turnpike), and play a blues progression to confuse high schoolers from 1955? It's okay if you haven't. Wake up (if you're like me) or go to bed (if you're majoring in computer science) to songs related to time and/or travel! |
| 7am-9am | The Wave | THEME | DESCRIPTION |
| 9am-11am | Len | Rare Soul Omnibus | Digging deep in the crates |
| 11am-12:30pm | DJ Almost Alright Also Known As Abby | Spaced Out | Do you wish you were an astronaut or a planet? Do you want to mentally venture through the cosmos on a vinyl rocket? Do you want to escape your classes and the pressures of college? Join me in tuning in to songs having to do with space and tuning out of the real world. |
| 12:30pm-2pm | No Show | I'm sad so you have to be sad too | I'm sad, we're all sad, let's listen to sad music to be even more sad. |
| 2-3:30pm | Kash | Slap Kink | If you're playing this show through your phone speakers: stop, reevaluate, put on your Sennheiser 820HD headphones, and get ready to hear the funkiest & filthiest bass lines to ever cross our airwaves (18+). |
| 3:30-5pm | RLRO Nation Radio Show | That 70's RLRO Show | We will play a plethora of 70's songs but no disco allowed. |
| 5-7pm | The Louie Agenda | Back to the Future (Part II) | In the middle of my Radiothon trilogy, we will celebrate songs from the present day (1985, of course) and the futuristic 2015! Hey, and the Cubbies won the World Series just one year after! |
| 7-9pm | Local Zone | Local Zone | Local Zone |
| 9-midnight | The Don | The Begathon XXIV: Blondie Hits The Jackpot (featuring TAPE) | Truth be told, the kidz have given up on trying to drive "The Don" into the ground. They got close with Merzbow, but nothing can put this bird down. So he'll be begging again while playing a greatest hits of Begathon artists WITH TAPE INVOLVED. This one might get a little loopy! |
| Thursday | | | |
| 12-2am | Nocturnable | Out of the Coffin | Get ready to sit up stiff from beyond the grave, this theme is all about the undead. |
| 2am-4am | ALL KAPS | sunset drive | roll down your windows for this one, folks! keep your eyes on the road and your mind in a peaceful state with the perfect assortment of tunes for peaceful night travels :) |
| 4am-7am | Alec | LIVE | Live recordings only blended together to create one long on-air concert. |
| 7am-9am | The Louie Agenda | Back to the Future (Part III) | Marty and Doc go to the Wild West, which is kind of representative of Americana. Let's face it: I will end up playing some Kacey Musgraves. |
| 9am-11am | Len | Classical and Jazz | Classical and Jazz |
| 11am-12:30pm | B-Rice | Paleolithic Pop | No new music this week - listen to tunes inspired by our most distant ancestors, painters of the caves, creators of the fire |
| 12:30pm-2pm | Anthony's Acoustics | Ginza District Lights | Feel transported to downtown Tokyo with the best of Japan's 80's and 90's city pop music |
| 2-3:30pm | Linda DeVito | Color My World | Songs with color |
| 3:30-5pm | Alec | O Canada | Exclusively music from our friends to the north. |
| 5-7pm | No Show | gay history class | lets get funky with some LGBTQ+ music. |
| 7-9pm | Doug Hill | 360 degree Soul/Funk Experience | Getting Funky with a whole lot of soul. From James Brown to Parliament-Funkadelic and everything between. |
| 9-midnight | Len | Songs That Became Other Bands' Names | These songs would go on to inspire future musicians and bands to name themselves |
| Friday | | | |
| 12-2am | Sputnik | NORTHERN EXPOSURE | A chilled-out selection of electronic ambiance from the Nordics |
| 2am-4am | Nocturntable | water | songs that have watery feels and ocean themes |
| 4am-7am | Zane Train & ALL KAPS | Epic Theme | Epic Description |
| 7am-9am | Sister Ray | Crowned | A Celebration of Rowland S. Howard. This show will feature the diverse musical influences and impacts of renowned Australian guitarist Rowland S. Howard, in observance of his 62nd birthday the week before halloween. |
| 9am-11am | Rachel Mirsen | Movie Music | my favorite songs from movie soundtracks & scores |
| 11am-12:30pm | DJ Icculus | WUVT Bugs Me | Songs about beetles, ticks, spiders, honeybees, and more. All members of the phylum Arthropoda are eligible. |
| 12:30pm-2pm | Zane Train | The Zane Train's Mighty Bullet Train | Speed. Pace. Momentum. Strength. Steel. Mighty. Unstoppable. The Train (and train themed songs) wait for no one. |
| 2-3:30pm | Big Fella | The Albert Hofmann Appreciation Show | This show is dedicated to musicians and groups directly influenced by the work of Albert Hofmann, despite not being a musician himself his work has served as an inspiration to musicians from all genres and backgrounds from the Beatles to Talking Heads to A$AP Rocky. |
| 3:30-5pm | Rachel Mirsen | my prepubescent-tween-esque anthems !!! | i will be playing songs i loved in elementary & middle school (& some newer songs i know i wouldve loved if they existed back then) |
| 5-7pm | Dial M for Monke | Cat fancy | A meditation on cats. That's right, we're going for the cat lover donations. |
| 7-9pm | Ye Annex Annex | lowrider soul | [insert picture of car] |
| 9-midnight | The Wave | Prime Time for Felines | As a lover of cats, I knew that I would have to have a Radiothon themed show about cats at some point, but I didn't think it would fall on such an important date! Join me on National Cat Day to listen to three hours worth of music having to do with cats! |
| Saturday | | | |
| 12-2am | Dial M for Monke | THEME | DESCRIPTION |
| 2am-4am | Alexandra and Zane | Werewolves and Bar Mitzvahs | we play songs about werewolves alternating with songs by Jewish artists. |
| 4am-7am | B-Rice | Non-Stop @@@@@ | Join bryce sophie and arca for some fun long-format tracks |
| 7am-9am | Pete | Where Rock and Country Meet | Rockabilly! The Men and Women Who Started It All. Johnny Cash, Jerry Lee Lewis, Wanda Jackson, Patsy Cline, all their best! |
| 9am-11am | JuJuSwann/Hickory Dickory Dock | Sticky and Icky | We will have a very sticky time with icky and fun songs!!! |
| 11am-1pm | high frequency | scenes from a slasher film | music from slasher horror movies |
| 1pm-3pm | MCJ | Tune in, Turn on! | Music so you don't have to worry anymore. |
| 3-5pm | Dobb Ruck | Night Breed | That sound wasn't Mom and Dad coming through the front door. It was the thing with antlers that walks on its hind legs that lives in the woods behind your house. |
| 5-7pm | Jeremy Becker | Gaming w/ Jeremy | Listen to Jeremy play some video games with some lovely music and sounds. You may not get the visual, but the aural experience will surely make up for that. |
| 7-9pm | The Kiser's Court | Fantastic Guitarists | Over the last 5 years of learning how to play guitar, there have been so many guitar players I've been astonished by when hearing their playing. |
| 9pm-12am | No Soap, Radio | Title Wave | The first word in each title is the last word of the title before |
| Sunday | | | |
| 12-2am | ALL KAPS | so-called "free thinkers" | a marvelous mash-up with limitless sick beats and the musical meanderings of the followers of wuvt's social accounts! :) |
| 2am-4am | Kash | Blueberry Bubblegum Blaster | Only, and I mean ONLY the best of K-Pop. This one's for the Blinks. |
| 4am-7am | DJ Almost Alright Also Known As Abby | night | it is not the day! |
| 7am-9am | DJ C.D. | Citypop to Get the City Poppin' | Welcome to Citypop to Get the City Poppin' with DJ C.D.! Japanese Citypop is becoming a more popular genre in the United States due to its up-beat nature and through the magic of social media. Made up of artists primarily in the Japanese 80's genre, it's certainly music perfect for driving through the city streets to. |
| 9am-11am | Anthony's Acoustics | Fall-ternative | The weather is colder but the music is only starting to heat up. Bake a pumpkin pie or get cozy in a blanket while listening to the best of alternative music: this week, with a Halloween twist |
| 11am-1pm | Dr. Sue | See You at the Movies! | great classic rock songs used in movie soundtracks - you'll be surprised |
| 1pm-3pm | Alexandra Krens | Sapphic Songs | Songs about and by women who love women |
| 3-5pm | John L. Walker | Latin American Classical Music Hits! | Two hours packed with the greatest classical classics from Latin America! |
| 5-7pm | Soundcheck | The 1998 Parent Trap Soundtrack, and Songs that Should Have Made the Cut | I'll be playing one of the best soundtracks in film (in my humble opinion), as well as some songs I've compiled that I believe fit the whole vibe of the movie. You'll hear some Nat King Cole, Glenn Miller, The Clash, Third Eye Blind, and more. |
| 7-9pm | BillyGoat | Hallowed Roots | a venerated journey through the genres of Americana music. Examples Lucinda Williams "Ghosts of Highway 20" and The Doors "The Soft Parade". |
| 9pm-12am | The Hole | Squongs (Squirrel Songs) | Songs with squirrels in them. To praise the best rodent that be. All hail squirrel kind. THEY WATCH BACK. |