Spring 2021 Radiothon Listening Guides
written by Bryce Roper on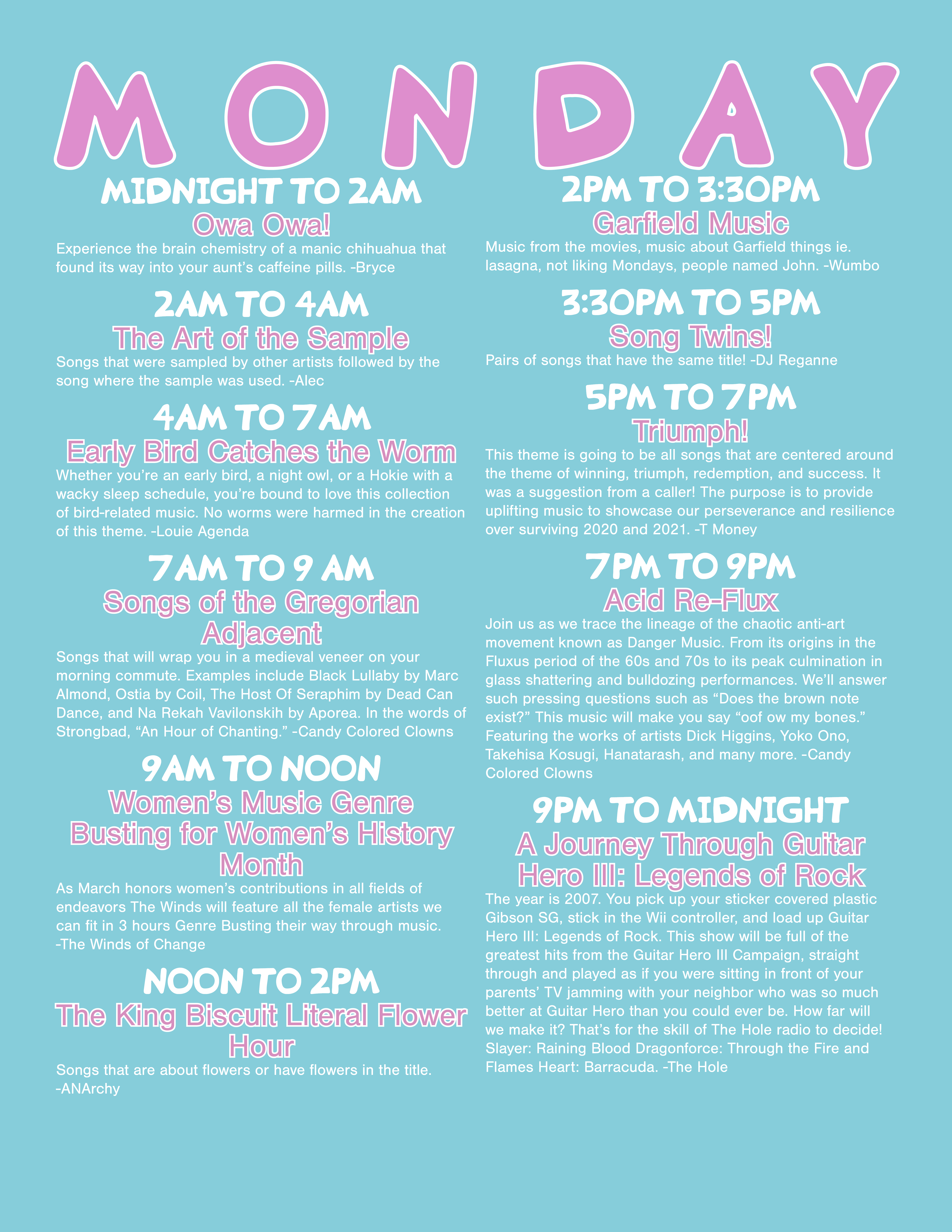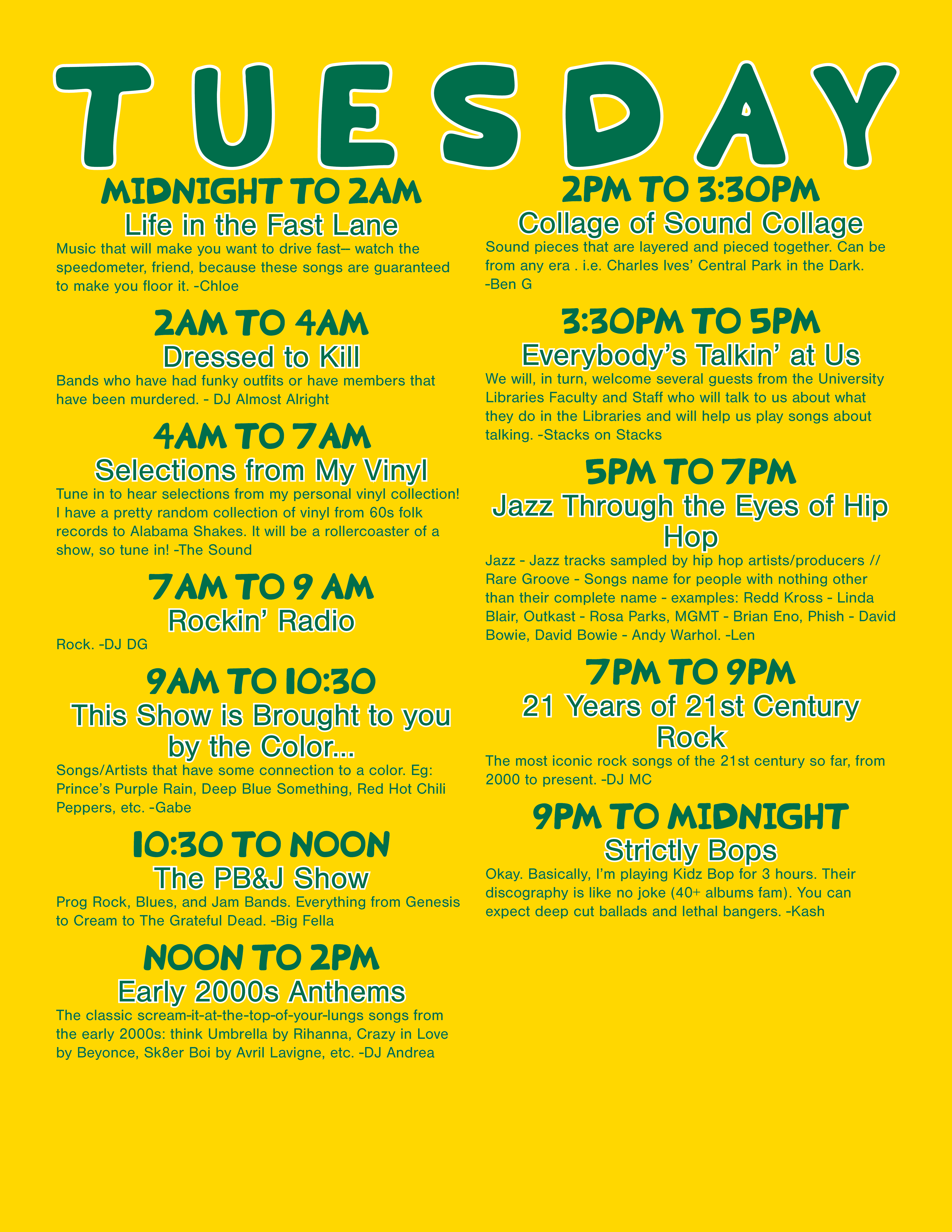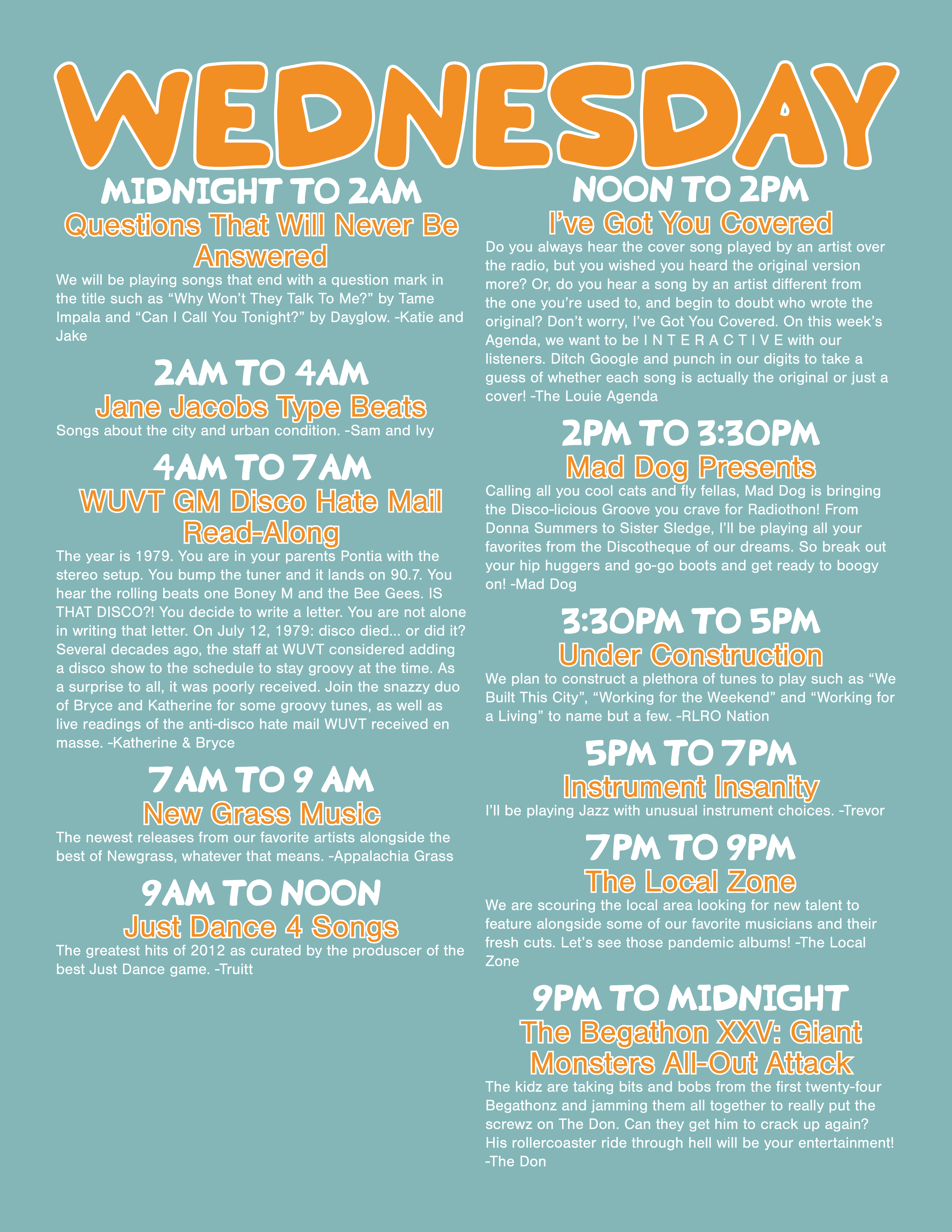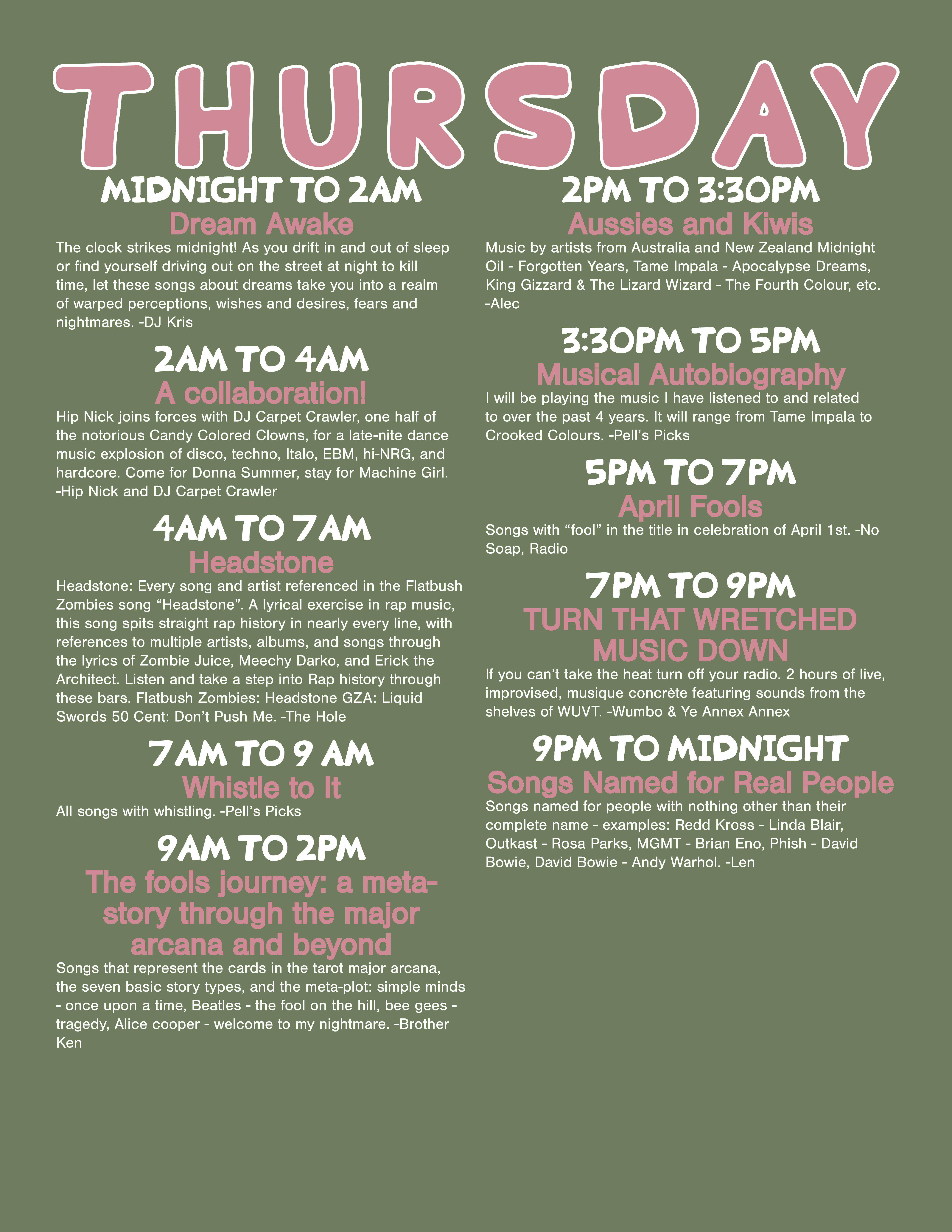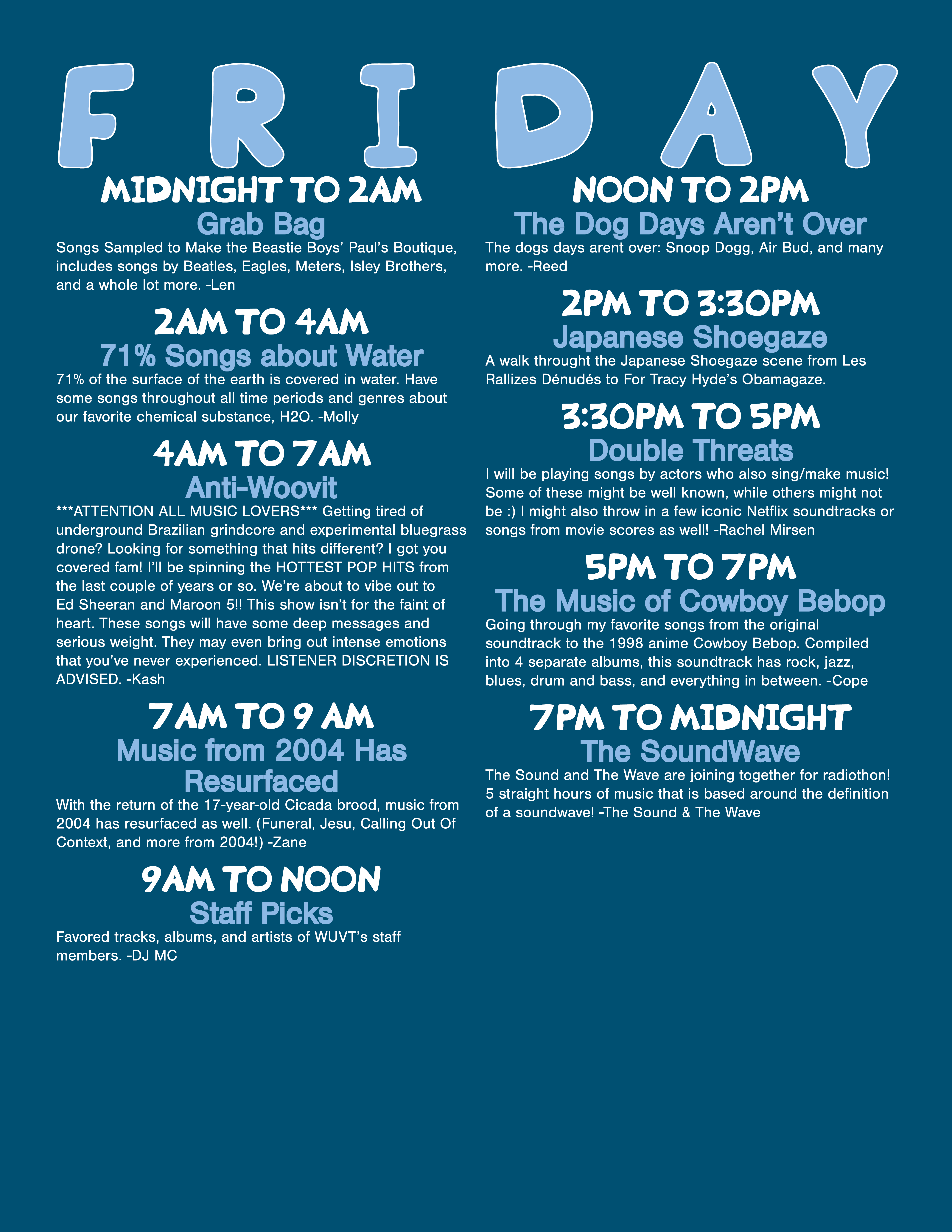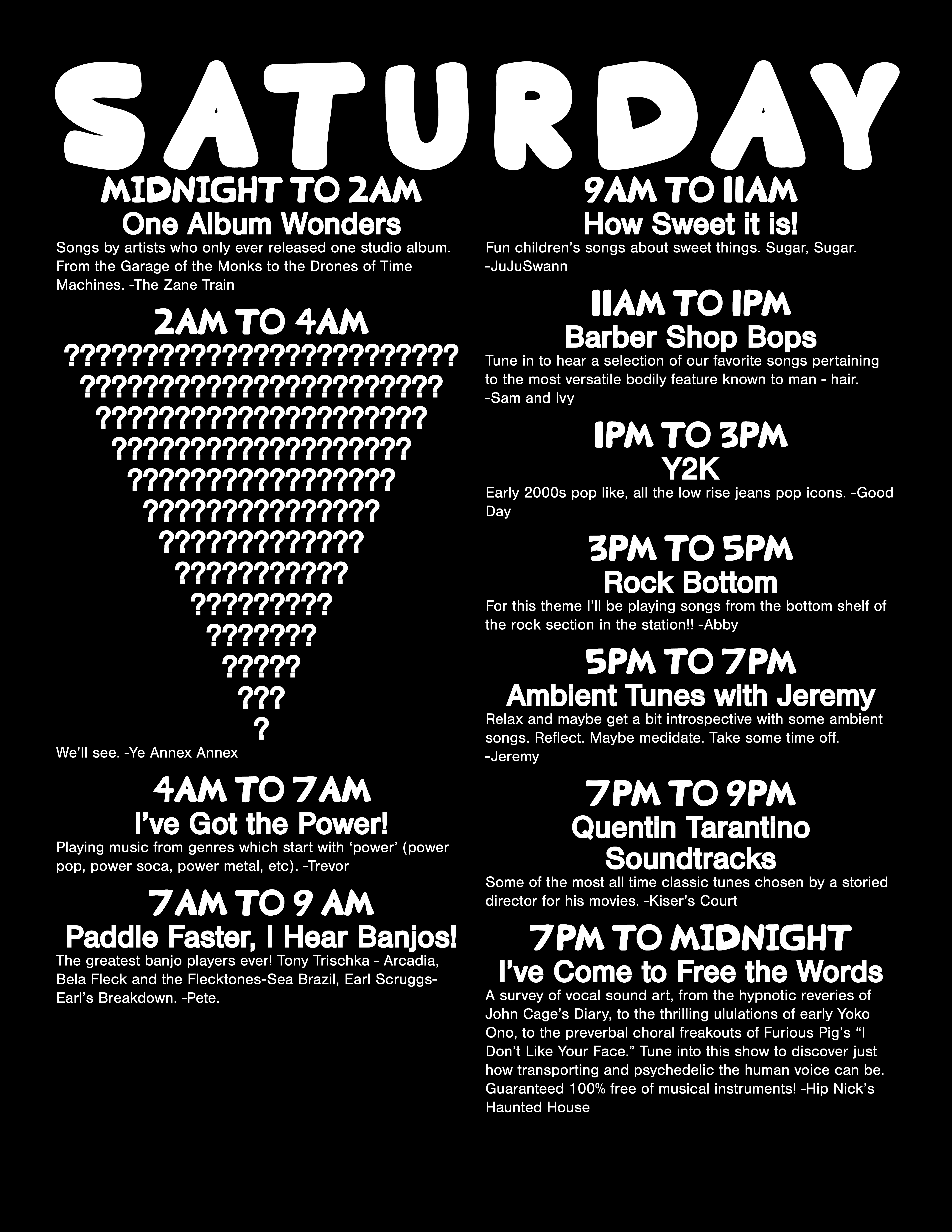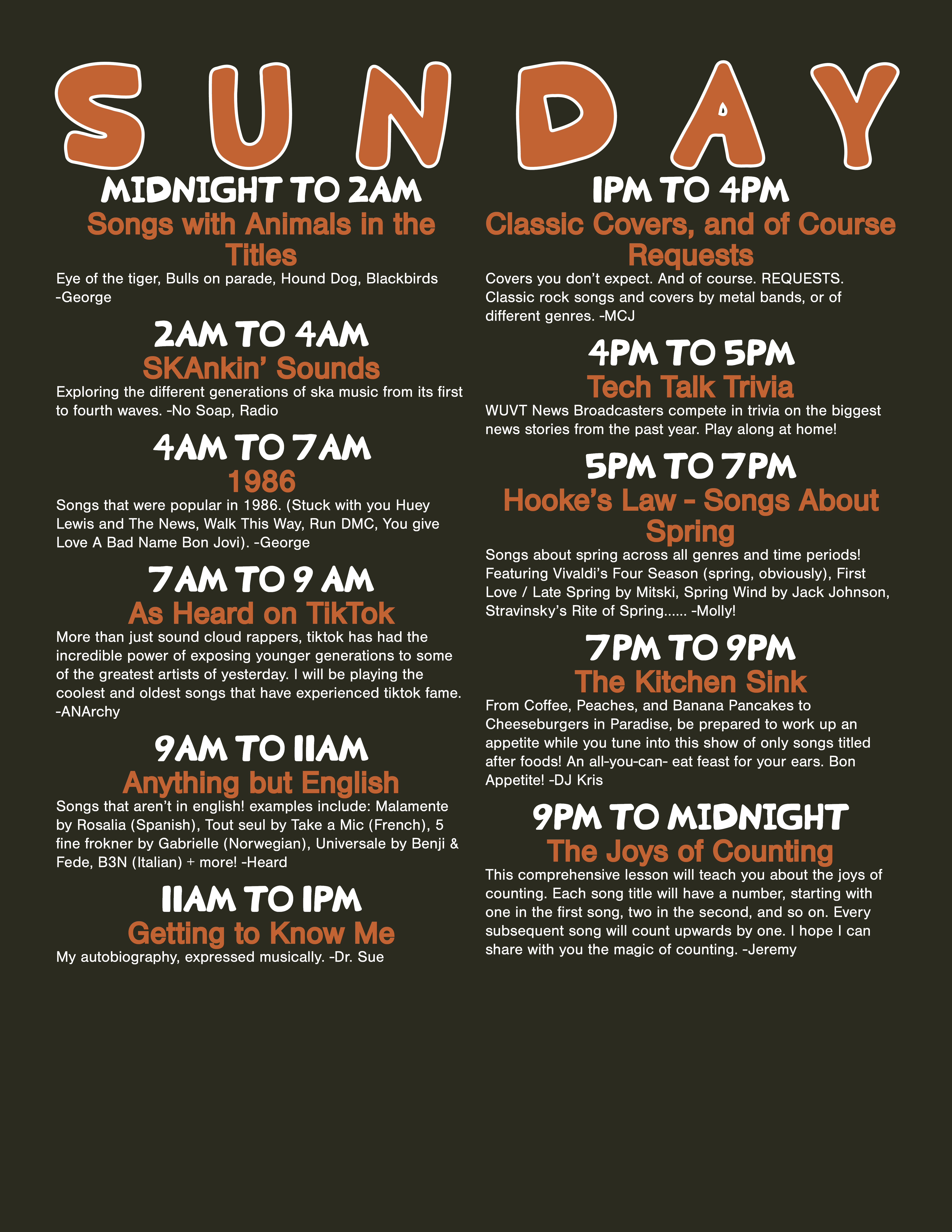 Quick jump-to:
◘Monday 03/29
◘Tuesday 03/30
◘Wednesday 03/31
◘Thursday 04/01
◘Friday 04/02
◘Saturday 04/03
◘Sunday 04/04
Program Guide below:

Monday 03/29
Time
Show
Theme
Description
Midnight-2am
Bryce
Owa Owa!
experience the brain chemistry of a manic chihuahua that found its way into your aunt's caffeine pills
2-4am
Alec
The Art of the Sample
Songs that were sampled by other artists followed by the song where the sample was used.
4-7am
The Louie Agenda
Early Bird Catches the Worm
Whether you're an early bird, a night owl, or a Hokie with a wacky sleep schedule, you're bound to love this collection of bird-related music. No worms were harmed in the creation of this theme.
7-9am
Candy Colored Clowns
Songs of the Gregorian-Adjancet
Songs that will wrap you in a medieval veneer on your morning commute. Examples include Black Lullaby by Marc Almond, Ostia by Coil, The Host Of Seraphim by Dead Can Dance, and Na Rekah Vavilonskih by Aporea. In the words of Strongbad, "An Hour of Chanting."
9am-Noon
The Winds of Change
Women's Music Genre Busting for Women's History Month
As March honors women's contributions in all fields of endeavors The Winds will feature all the female artists we can fit in 3 hours Genre Busting their way through music.
Noon-2pm
ANArchy
the king Biscuit literal Flower Hour
songs that are about flowers or have flowers in the title
2-3:30pm
Wumbo
Garfield Music
music from the movies, music about Garfield things ie. lasagna, not liking Mondays, people named john
3:30-5pm
DJ Reganne
Song twins!
Pairs of songs that have the same title! Example: Sunflower by Post Malone, Sunflower by Harry Styles
5-7pm
T Money
Triumph!
This theme is going to be all songs that are centered around the theme of winning, triumph, redemption, and success. It was a suggestion from a caller! The purpose is to provide uplifting music to showcase our perseverance and resilience over surviving 2020 and 2021.
7-9pm
Acid Re-Flux
Join us as we trace the lineage of the chaotic anti-art movement known as Danger Music. From its origins in the Fluxus period of the 60s and 70s to its peak culmination in glass shattering and bulldozing performances. We'll answer such pressing questions such as "Does the brown note exist?" This music will make you say "oof ow my bones." Featuring the works of artists Dick Higgins, Yoko Ono, Takehisa Kosugi, Hanatarash, and many more.
9pm-Midnight
A Journal Through Guitar Hero III: Legends of Rock
The year is 2007. You pick up your sticker covered plastic Gibson SG, stick in the Wii controller, and load up Guitar Hero III: Legends of Rock. This show will be full of the greatest hits from the Guitar Hero III Campaign, straight through and played as if you were sitting in front of your parents TV jamming with your neighbor who was so much better at Guitar Hero than you could ever be. How far will we make it? That's for the skill of The Hole radio to decide! Slayer: Raining Blood Dragonforce: Through the Fire and Flames Heart: Barracuda
Tuesday 03/30
Time
Show
Theme
Description
Midnight-2am
Chloe
Life in the Fast Lane
Music that will make you want to drive fast-- watch the speedometer, friend, because these songs are guaranteed to make you floor it. Ex. Vroom Vroom by Charli XCX, Gimme! Gimme! Gimme! (A Man After Midnight) by ABBA
2-4am
DJ Almost Alright
Dressed to kill
bands who have had funky outfits or have members that have been murdered
4-7am
the Sound
Selections from my vinyl
Tune in to hear selections from my personal vinyl collection! I have a pretty random collection of vinyl from 60s folk records to Alabama Shakes. It will be a rollercoaster of a show, so tune in!
7-9am
DJ DG
Rockin' radio
Rock- Green Day, Boston, etc.
9am-Noon
Gabe / Big fella
This Show is brought to you by the color (9-10:30) / The PB&J Show (10:30-noon)
Songs/Artists that have some connection to a color. Eg: Prince's Purple Rain, Deep Blue Something, Red Hot Chili Peppers, etc. Prog Rock, Blues, and Jam Bands. Everything from Genesis to Cream to The Grateful Dead.
Noon-2pm
DJ Andrea
Early 2000s anthems
The classic scream-it-at-the-top-of-your-lungs songs from the early 2000s: think Umbrella by Rihanna, Crazy in Love by Beyonce, Sk8er Boi by Avril Lavigne, etc.
2-3:30pm
Ben G
Collage of sound collage
Sound pieces that are layered and pieced together. Can be from any era. i.e. Charles Ives' Central Park in the Dark
3:30-5pm
Stacks on stacks
Everybody's talkin' at us
We will, in turn, welcome several guests from the University Libraries Faculty and Staff who will talk to us about what they do in the Libraries and will help us play songs about talking.
5-7pm
Len
Jazz through the eyes of hip hop
Jazz - Jazz tracks sampled by hip hop artists/producers // Rare Groove - Songs name for people with nothing other than their complete name - examples: Redd Kross - Linda Blair, Outkast - Rosa Parks, MGMT - Brian Eno, Phish - David Bowie, David Bowie - Andy Warhol
7-9pm
DJ MC
21 years of 21st century rock
The most iconic rock songs of the 21st century so far, from 2000 to present.
9pm-Midnight
Kash
strictly bops
Okay. Basically, I'm playing Kidz Bop for 3 hours. Their discography is like no joke (40+ albums fam). You can expect deep cut ballads and lethal bangers.
Wednesday 03/31
Time
Show
Theme
Description
Midnight-2am
Katie and Jake
Questions that will never be answered
We will be playing songs that end with a question mark in the title such as "Why Won't They Talk To Me?" by Tame Impala and "Can I Call You Tonight?" by Dayglow.
2-4am
Sam and Ivy
Jane Jacobs type beats
Songs About The City And Urban Condition
4-7am
Katherine & Bryce
WUVT GM Disco Hate Mail Read-Along
year is 1979. You are in your parents Pontiac with the stereo setup. Your hand grazes the tune knob and it lands on 90.7. You hear the rolling beats one Boney M and the Bee Gees. IS THAT DISCO?! You decide to write a letter. You are not alone in writing that letter. On July 12, 1979: disco died... or did it? Several decades ago, the staff at WUVT considered adding a disco show to the schedule to stay groovy at the time. As a surprise to all, it was poorly received. Join the snazzy duo of Bryce and Katherine for some groovy tunes, as well as live readings of the anti-disco hate mail WUVT received en masse. examples: disco, Bee Gees, Earth, Window, and Fire, Jessie Ware
7-9am
Appalachia Grass
New Grass Music
The newest releases from our favorite artists alongside the best of Newgrass, whatever that means.
9am-Noon
Truitt
Just dance 4 songs
The greatest hits of 2012 as curated by the producers of best Just Dance game"
Noon-2pm
The Louie Agenda
I've got you covered
Do you always hear the cover song played by an artist over the radio, but you wished you heard the original version more? Or, do you hear a song by an artist different from the one you're used to, and begin to doubt who wrote the original? Don't worry, I've Got You Covered. On this week's Agenda, we want to be I N T E R A C T I V E with our listeners. Ditch Google and punch in our digits to take a guess of whether each song is actually the original or just a cover!
2-3:30pm
Mad Dog
Dalton's Disco Fever
Calling all you cool cats and fly fellas, Mad Dog is bringing the Disco-licious Groove you crave for Radiothon! From Donna Summers to Sister Sledge, I'll be playing all your favorites from the Discotheque of our dreams. So break out your hip huggers and go-go boots and get ready to boogy on!
3:30-5pm
RLRO Nation
Under Construction
We plan to construct a plethora of tunes to play such as "We Built This City", "Working for the Weekend" and "Working for a Living" to name but a few.
5-7pm
Trevor
Instrument insanity
I'll be playing jazz with unusual instrument choices (Buddy Emmons, Alice Coltrane, Rufus Harley)
7-9pm
The Local Zone
The Local Zone
We are scouring the local area looking for new talent to feature alongside some of our favorite musicians and their fresh cuts. Let's see those pandemic albums!
9pm-Midnight
the Don
The Begathon XXV: Giant Monsters All-Our Attack
The kidz are taking bits and bobs from the first twenty-four Begathonz and jamming them all together to really put the screwz on The Don. Can they get him to crack up again? His rollercoaster ride through hell will be your entertainment!
Thursday 04/01
Time
Show
Theme
Description
Midnight-2am
DJ Kris
Dream awake
The clock strikes midnight! As you drift in and out of sleep or find yourself driving out on the street at night to kill time, let these songs about dreams take you into a realm of warped perceptions, wishes and desires, fears and nightmares.
2-4am
Hip Nick & DJ Carpet Crawler
A collaboration!
Hip Nick joins forces with DJ Carpet Crawler, one half of the notorious Candy Colored Clowns, for a late-nite dance music explosion of disco, techno, Italo, EBM, hi-NRG, and hardcore. Come for Donna Summer, stay for Machine Girl.
4-7am
the Hole Radio
Headstone
Headstone: Every song and artist referenced in the Flatbush Zombies song "Headstone". A lyrical exercise in rap music, this song spits straight rap history in nearly every line, with references to multiple artists, albums, and songs through the lyrics of Zombie Juice, Meechy Darko, and Erick the Architect. Listen and take a step into Rap history through these bars. Flatbush Zombies: Headstone GZA: Liquid Swords 50 Cent: Don't Push Me
7-9am
Pell's Picks
Whistle to It
all songs with whistling (Young Folks, Tighten Up)
9am-2pm
Brother Ken
The fools journey: a meta-story through the major arcana and beyond
songs that represent the cards in the tarot major arcana, the seven basic story types, and the meta-plot: simple minds - once upon a time, Beatles - the fool on the hill, bee gees - tragedy, Alice cooper - welcome to my nightmare
2-3:30pm
Alec
Aussies and Kiwis
Music by artists from Australia and New Zealand Midnight Oil - Forgotten Years Tame Impala - Apocalypse Dreams King Gizzard & The Lizard Wizard - The Fourth Colour
3:30-5pm
Pell's Picks
Musical Autobiographu
I will be playing the music I have listened to and related to over the past 4 years. It will range from Tame Impala to Crooked Colours
5-7pm
No Soap, Radio
April Fools
Songs with "fool" in the title in celebration of April 1st.
7-9pm
Wumbo
TURN DOWN THAT WRETCHED MUSIC
The most brutally loud and obnoxious music that I personally love
9pm-Midnight
Len
Songs Named for Real People
Songs named for people with nothing other than their complete name - examples: Redd Kross - Linda Blair, Outkast - Rosa Parks, MGMT - Brian Eno, Phish - David Bowie, David Bowie - Andy Warhol
Friday 04/02
Time
Show
Theme
Description
Midnight-2am
Len
Grab bag
Songs Sampled to Make the Beastie Boys' Paul's Boutique, includes songs by Beatles, Eagles, Meters, Isley Brothers, and a whole lot more.
2-4am
Molly
71%: Songs about water
71% of the surface of the earth is covered in water. Have some songs throughout all time periods and genres about our favorite chemical substance, H2O
4-7am
Kash
Anti-Woovit
ATTENTION ALL MUSIC LOVERS Getting tired of underground Brazilian grindcore and experimental bluegrass drone? Looking for something that hits different? I got you covered fam! I'll be spinning the HOTTEST POP HITS from the last couple of years or so. We're about to vibe out to Ed Sheeran and Maroon 5!! This show isn't for the faint of heart. These songs will have some deep messages and serious weight. They may even bring out intense emotions that you've never experienced. LISTENER DISCRETION IS ADVISED.
7-9am
Zane
Music from 2004 has resurfaced
With the return of the 17-year-old Cicada brood, music from 2004 has resurfaced as well. (Funeral, Jesu, Calling Out Of Context, and more from 2004!)
9am-Noon
DJ MC
Staff picks
Favored tracks, albums, and artists of WUVT's staff members.
Noon-2pm
Reed
The dog days aren't over
The dogs days arent over: Snoop Dogg, Air Bud, and many more
2-3:30pm
Ye annex annex
Japanese Shoegaze
A look at the Japanese shoegaze scene from the 90s to today.
3:30-5pm
Rachel Mirsen
Double threats (AKA actors who also make music)
I will be playing songs by actors who also sing/make music! Some of these might be well known, while others might not be :) I might also throw in a few iconic Netflix soundtracks or songs from movie scores as well!
5-7pm
Cope
The music of cowboy bebop
Going through my favorite songs from the original soundtrack to the 1998 anime Cowboy Bebop. Compiled into 4 separate albums, this soundtrack has rock, jazz, blues, drum and bass, and everything in between.
7pm-Midnight
the Sound
The soundwave
The Sound and The Wave are joining together for radiothon! 5 straight hours of music that is based around the definition of a soundwave!
Saturday 04/03
Time
Show
Theme
Description
Midnight-2am
the Zane Train
One album wonders
Songs by artists who only ever released one studio album. From the Garage of the Monks to the Drones of Time Machines.
2-4am
Reganne
Daisy chaining!
The last word of the title of the last song will be the first word of the next's title. Example: Only Wanna Be With You: Hootie and the Blowfish - You Shook Me All Night Long: ACDC - Long Walk Home: Bruce Springsteen
4-7am
Trevor
I've got the power!
Playing music from genres which start with 'power' (power pop, power soca, power metal, etc)
7-9am
Pete
Paddle faster, I hear banjos!
The greatest banjo players ever! Tony Trischka - Arcadia, Bela Fleck and the Flecktones-Sea Brazil, Earl Scruggs-Earl's Breakdown.
9am-11am
JuJuSwann
How sweet it is!
Fun children's songs about sweet things. Sugar, Sugar
11am-1pm
Sam and Ivy
Barber shop bops
Tune in to hear a selection of our favorite songs pertaining to the most versatile bodily feature known to man - hair.
1pm-3pm
good day
y2k
early 2000s pop like, all the low rise jeans pop icons
3-5pm
Abby
Rock bottom
For this theme I'll be playing songs from the bottom shelf of the rock section in the station!!
5-7pm
Jeremy
Ambient tunes with Jeremy
Relax and maybe get a bit introspective with some ambient songs. Reflect. Maybe medidate. Take some time off.
7-9pm
Kiser's Court
Quentin Tarantino soundtracks
Some of the most all time classic tunes chosen by a storied director for his movies.
9pm-Midnight
Hip Nick's Haunted House
I've come to free the words
A survey of vocal sound art, from the hypnotic reveries of John Cage's Diary, to the thrilling ululations of early Yoko Ono, to the preverbal choral freakouts of Furious Pig's "I Don't Like Your Face." Tune into this show to discover just how transporting and psychedelic the human voice can be. Guaranteed 100% free of musical instruments!
Sunday 04/04
Time
Show
Theme
Description
12-2am
George
Songs with animals in the title
Eye of the tiger, Bulls on parade, Hound Dog, Blackbirds
2-4am
No soap, radio
SKAnkin' sounds
Exploring the different generations of ska music from its first to fourth waves.
4-7am
George
1986
Songs that were popular in 1986. (Stuck with you Huey Lewis and The News, Walk This Way, Run DMC, You give Love A Bad Name Bon Jovi).
7-9am
ANArchy
As heard on Tiktok
More than just sound cloud rappers, tiktok has had the incredible power of exposing younger generations to some of the greatest artists of yesterday. I will be playing the coolest and oldest songs that have experienced tiktok fame.
9-11am
Heard
Anything but english
songs that aren't in english! examples include: Malamente by Rosalia (Spanish), Tout seul by Take a Mic (French), 5 fine frokner by Gabrielle (Norwegian), Universale by Benji & Fede, B3N (Italian) + more!
11am-1pm
Dr. Sue
Getting to know me
My autobiography, expressed musically.
1pm-5pm
MCJ
Classic covers, and of course requests
Covers you don't expect. And of course. REQUESTS. Classic rock songs and covers by metal bands, or of different genres.
5-7pm
MCJ
Classic covers, and of course requests
Songs about spring across all genres and time periods! Featuring Vivaldi's Four Season (spring, obviously), First Love / Late Spring by Mitski, Spring Wind by Jack Johnson, Stravinsky's Rite of Spring......
7-9pm
Molly!
Hooke's law - songs about Spring
From Coffee, Peaches, and Banana Pancakes to Cheeseburgers in Paradise, be prepared to work up an appetite while you tune into this show of only songs titled after foods! An all-you-can- eat feast for your ears. Bon Appetite!
9pm-midnight
DJ Kris
The Kitchen sink
This comprehensive lesson will teach you about the joys of counting. Each song title will have a number, starting with one in the first song, two in the second, and so on. Every subsequent song will count upwards by one. I hope I can share with you the magic of counting.