Radio for Everyone: Sex, Drugs, and Rock and Roll!
written by Eric C. Landgraf on
Do I have your attention? Good. There are only 3 days left of Radiothon, so if you haven't donated yet, you should break out that piggy bank and start counting the pennies, because every bit helps! If piggy banks and rolls of coins aren't really your style, you can click on the link that says Donate Now in the top corner of the site, on the robot's speech bubble, on the side navigation bar, or right here in this article!
If you don't yet know what show to donate during (and decided you didn't want a gift of baby panda from The Don showing up on your doorstep), You can donate during Len's show, "Songs about sex that you didn't know were about sex" (the sequel to "Songs about drugs that you didn't know were about drugs"), and have your donation matched by an alum!
If you're in downtown Blacksburg today, you should go find this guy and hug him: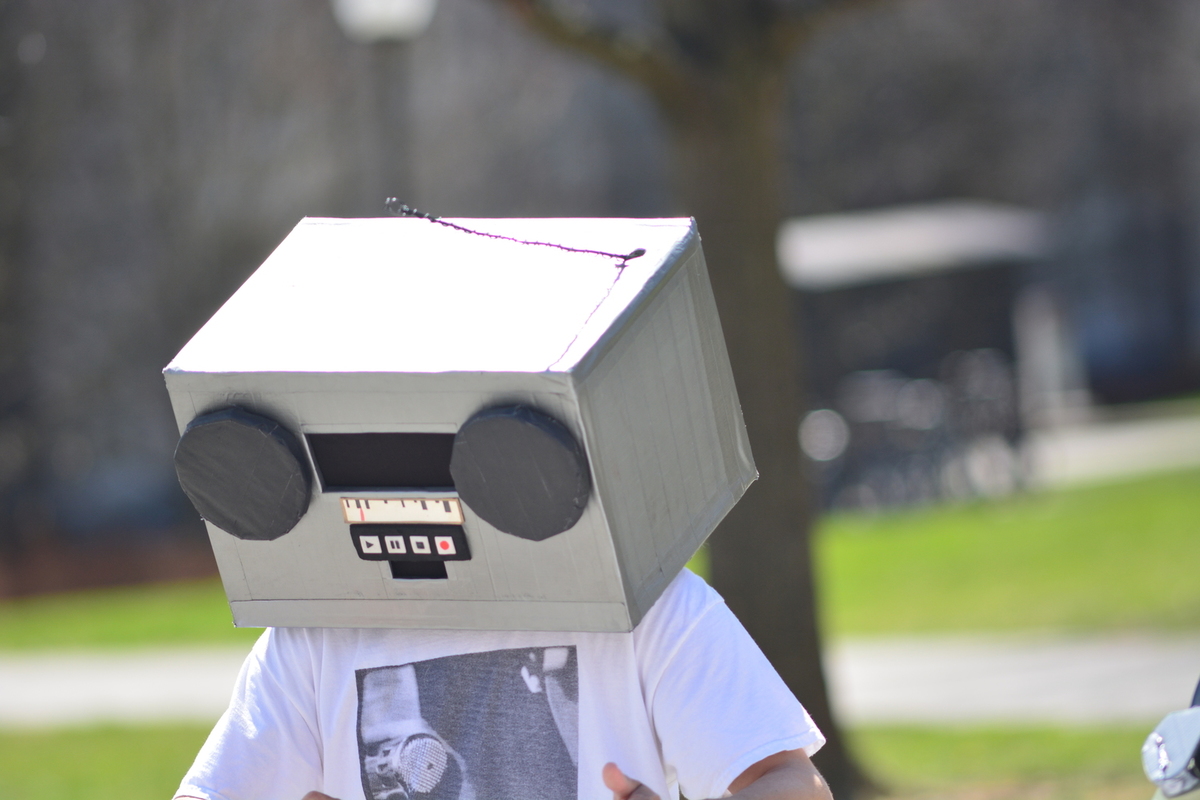 Here's yet another message from our general manager:
Fair greetings, O' Proud Defenders of Radio-

We're nearly halfway through Radiothon now. As sad as that may sound, remember that still means another four full days of the best radio programming this side of Jupiter. We have plenty of fantastic shows coming your way courtesy of our DJ corps.

Let's take another quick look at tomorrow's upcoming shows:

7-9AM: One of our new Americana DJs, Miles, brings a special edition of Allegheny Something to highlight the colors Blue & Gold, along with blues songs and songs about West Virginia. We'll try to overlook the treason there...
3:30-5PM: Molly has a very special show planned - it's a choose your own adventure radio show! Dungeons & DJs will take its listeners on a musical adventure where the callers and donors will determine the fate of our protagonist. Tune in to hear something really unique!
9PM-12AM: Len follows up last semester's quite popular theme of "Songs you didn't know were about drugs" with "Songs you didn't know were about sex". You'll have to ask him if he planned this for our 69th birthday celebration. In addition, WUVT Alum Esteban Bueno will be matching all donations up to $500 at 100% for the first hour, 50% for the second, and 25% for the third.

In addition to our regular Radiothon programming, we'll be holding our Radiothon show at Gillie's this Saturday! Doors are at 10PM, and the show starts at 10:30. The price is $7 at the door and more information can be found here at our Facebook event.

Our current Radiothon donations total is $5,648.74, and seeing that number makes me immensely proud. It's heartwarming to know we have listeners who care as much about our mission as we do. If you haven't donated yet, be sure to go online to http://www.wuvt.vt.edu/donate or call the station at 540-231-9888 to make your pledge today. And be sure to check out our monthly donation options to help keep us running year-round!

Until next time,

Emmet Hobgood

General Manager, WUVT-FM

Radio for Everyone
Thursday
| | DJ | Show Name | Show Description |
| --- | --- | --- | --- |
| 00:00-02:00 | DJ Promised Hero | Put Your Heart on the Beat | |
| 02:00-04:00 | Ben Trogdon | Mountain Songs | Get your lumberjack on! |
| 04:00-07:00 | Intergalactic Space Federation Radio: Broadcasting from the Wharf Inside Andy's Space Bedroom | The Sound of Techno | Live from the Lylat System inside Andy's Radio Broadcasting Traveling Space Trabby, Andy and his friends bring you 3 hours of non-stop techno, for all in the NRV and throughout the Galaxy! |
| 07:00-09:00 | Miles Goodall | Allegheny Something | Blues and Golds - Songs, artists, and album names with blue or gold, the blues, and West Virginian songs |
| 09:00-12:00 | Super Groovy Delicious | The Final Frontier | David Bowie's "Space Oddity/Ashes to Ashes", Pink Floyd's "Interstellar Overdrive", Frank Sinatra's "Fly Me to the Moon", and many more |
| 12:00-14:00 | Andrew Balluck | Tranquillity FM | A radio station as if it were on the moon |
| 14:00-15:30 | Alexis Medina | Love, Sex, and Magic | |
| 15:30-17:00 | Molly Graham | Dungeons and DJs | A "choose your own adventure" radio show |
| 17:00-19:00 | Ben C | Happy Holidays presents: Music Inspired by Mass Appeals' Rhythm Roulette | Inspired by the YouTube series "Mass appeals' Rhythm roulette" (which we here at Happy Holidays have so far watched for approximately 69 hours [Why does this number keep coming up?]), Happy Holidays presents a special collection of beats and songs by producers featured on this series. Artists such as 9th wonder, DJ Dahi, Wondagurl, and Thelonius Martin will make an appearance. Also, Happy Pencil Day. |
| 19:00-21:00 | Carly Faulkner | Kosmische Musik | Musik für Aliens |
| 21:00-24:00 | The Rare Groove | Songs about sex, that you didn't know were about sex | |