Radiothon Premiums Fall 2019
Our business staff is super excited to share these with you, so read the list below to see what kinds of things you can get by donating! If you're looking for other WUVT merch, please visit our online store, where old premium designs can be found as well as limited time offers.
Note: Just like in past years, these premiums stack. So if you donate $35 to get the beanie, you also get the bandana, lighter, and sticker!
Sticker! ($5)
Do you have a surface that is looking kind of empty? Need to fix a leak with fashion? Let others know that you listen to the greatest radio station in the world? Get your very own $5 WUVT sticker for you, friends or family, or the bumper of your car! (And tell them to tune in to WUVT-FM 90.7 Blacksburg!)
Lighter! ($10)
Have you ever wanted a lighter that had a crocodile with a pacifier in its mouth AND rep WUVT at the same time? Now is your chance! Check out this $10 premium for all of your lighter needs!
WUVT Bandana! ($25)
A reliable, versatile, undeniably awesome bandana is one of our newer premiums for this semester! A cool way to show that you support WUVT by using it anywhere!
WUVT Radiothon Beanie! ($35)
Stay warm with WUVT this semester with our beanie! Donate $35 to keep your ears warm with our wonderful FM DJs this winter!
WUVT Radiothon T-Shirt ($65)
Our most popular Radiothon premiums is back. Call or go online and donate $65 to get this year's Radiothon T-Shirt! See below for design mock-ups.
Theme Request for Next Radiothon ($100)
As you may know, during Radiothon our FM DJs go all out to bring you the best auditory experience we possibly can. Each DJ creates a theme to follow during their show, and now we're giving you the chance to come up with some themes of your own. For $100, you can suggest a theme idea that one of our DJs will run next Radiothon! Use this opportunity as kindly or as cruelly as you like, but since there's a limited number of empty spots in the schedule, act fast! We can only do as many as we have time for. Limited to 10 themes.
To get a message, donate and fill out the Google form in the receipt email that we'll send you!
Examples from past years:
Africa A-Z: Funk, Jazz, Disco, Metal, Folk, Rap, Punk, Rock, Psychedelic, Calypso, Bellydance, Soul, R&B, Reggae, and of course Afrobeat. Africa has it all and more. Join me as I showcase the musical diversity of the birthplace of humanity. I'll be playing a song from all 54 UN recognized countries in Africa. Starting with Algerian funk and continuing to the Chimurenga music of Zimbabwe with stops in every country in between.
Werewolf Bar Mitzvah: Songs by Jewish musicians mixed in with songs about werewolves and some traditional Israeli tunes, in honor the classic 30 Rock "Werewolf Bar Mitzvah".
The Best of SIMPSONWAVE: I play vaporwave tunes that were paired with edited clips of Simpsons episodes in "Simpsonwave" viral videos.
80s New Wave : one of the themes that was requested for this semester! We are excited to play the theme for you!
and many more! see the "programming" section of the website for past Radiothon program guides, which will have the complete lists of show themes.
Shotglass Set! ($130)
A shotglass set, you know, for drinking responsibly while representing WUVT.
WUVT Handmade Socks ($907)
Our premier level of premium this year gets you some WUVT socks, made by our very own art staff, personally embroidered for you!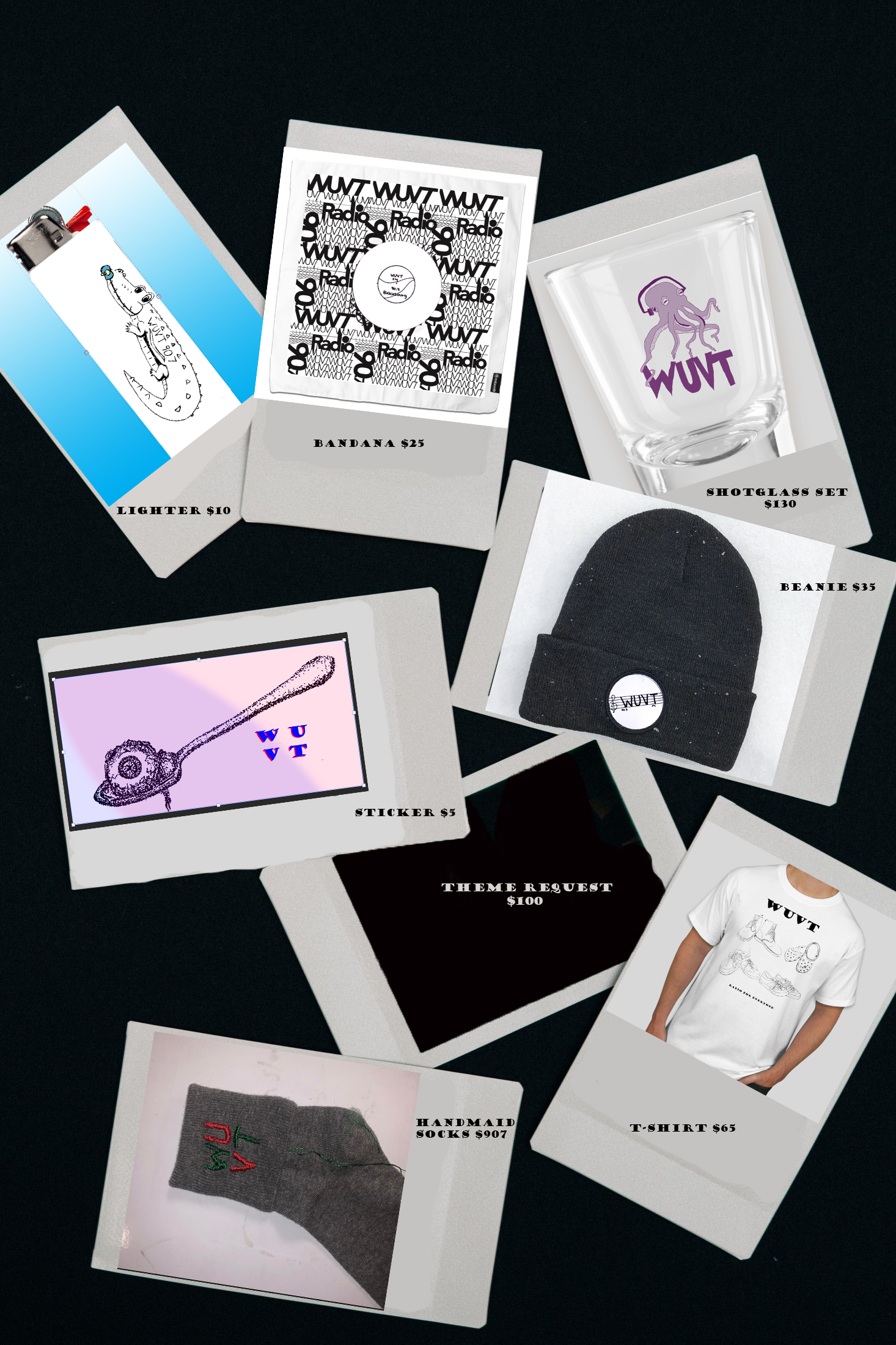 ---
If any of these premiums interested you, head over to our donate page to get them today! Wherever and however you decide to use your premiums, we would like to thank you for your help in making this the Greatest Radio Station in the World! It's the last Radiothon of the 2010s! Here's to many more decades of Radiothons.